Christie Overhead Door has worked with residential homeowners and commercial businesses to provide the highest quality residential garage doors and commercial garage doors and workmanship above and beyond industry standard since 1945. Our vast selection of both commercial overhead doors and residential overhead doors are functional and aesthetically appropriate and pleasing. You'll be sure to find the perfect fit for what you seek in garages doors at Christie Overhead Door. We stand behind the superb craftsmanship and high quality of our commercial garage doors and residential garage doors.
The friendly sales staff at Christie Overhead Door is happy to walk you through the entire process of purchasing commercial overhead doors or residential overhead doors for your home or business. Each member of our sales staff is extremely familiar with our large selection of steel, aluminum, shutters and composite overhead garage doors. Our staff will work directly with you to whittle down the alternatives so that you will be able to find the exact match for what you need in overhead garage doors.
We guarantee 100% the service and workmanship of our overhead garage door installation. Our team of experts in garage door installation in New York is specially trained and qualified in quick and efficient installations. When you come to Christie Overhead Door for overhead garage door installation in New York, you can rest easy knowing that an insured, licensed and I.D.E.A certified and accredited professional company is on the job.
Don't see something you like in our large stock of commercial garage doors and residential overhead doors? No problem. We will work closely with you to custom design commercial overhead doors or residential garage doors that will perfectly match all of your needs. We'll then schedule your overhead garage door installation at a time that is convenient for you.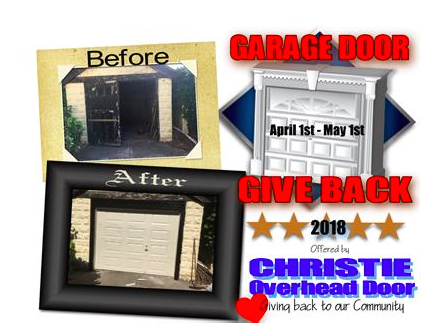 STATEN ISLAND GARAGE DOOR GIVE BACK!
The 2018 "Garage Door Give Back" is here!  April 1st – May 1st we are looking for photos and brief stories of homeowners who have broken, rotting, rusting or just plain ugly doors!
Simply take a photo of the garage door, ( or what's left of it ) upload it to our Christie Overhead Door Facebook page and type a brief description of why the garage door should be replaced. Share in a few sentences the homeowner's story of why people should vote for them to win a free Garage door. You can nominate a friend, neighbor, co-worker, or yourself!
Share the post with us, once we've posted it, ask them to "like" your photo nomination on the Christie Overhead Door facebook page in order to count it as a vote.
The photo with the most "likes" wins the contest and gets to choose a new garage door to be installed on their home!
The new garage door has a total value of $750. Winning homeowner must be a Staten Island resident.  As seen on the Staten Island Advance website.
Pleas Spread the word!