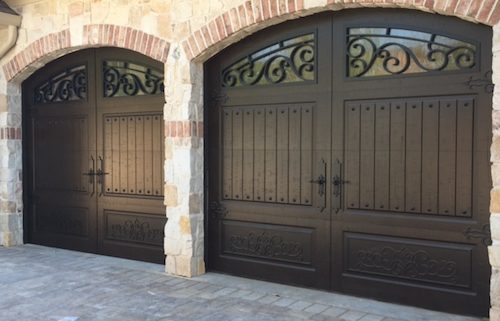 Iron ornamental garage doors are the latest residential home trend in the Northeast.
Christie Overhead door recently installed two iron ornamental garage doors in Staten Island and Brooklyn, New York. Mixing metal and unique designs is a trend Christie Overhead Door is deeply committed to in 2018.
Owners of Christie Overhead Door, Andrew and Carla Cimmino, are always pushing the envelope in style and trends. Andrew and Carla strive to offer clients unique and elegant solutions at their garage door company located in Staten Island. Recently, Christie Overhead Door designed two new prototypes to feature on new garage door designs. The prototypes will be fitted on actual garage doors in the month of December. Homeowners can expect to see the new designs on iron ornamental garage doors in the Christie Overhead Door showroom by mid-December.
The new decorative garage doors are simply unique and beautiful. These residential garage doors will allow homeowners a distinct way to showcase their home and compliment their iron ornamental entry door for a fraction of the cost. Whether your garage doors face the street or if they are located on the side of your home, this design is noticeable to say the least. The new iron ornamental garage door look will make a grand design statement that will absolutely improve your curb appeal.
Iron ornamental garage doors are very popular on the east coast. Andrew and Carla Cimmino saw an opportunity to offer exclusive new garage door designs to homeowners in Staten Island, Brooklyn, New Jersey and Long Island. "We are super excited to offer an exclusive garage door design that will elevate the look of homes in our local neighborhoods" said Andrew Cimmino. Christie Overhead Door is taking orders for the new iron ornamental garage door designs now for January 2018. Custom garage door orders can take up to 4-6 weeks for delivery.
If you're shopping around for new garage doors, make an appointment to visit the Christie Overhead Door showroom in Staten Island. The team at Christie will be happy to walk you through their design process. A garage door expert will help you select the best garage door for your home. The exclusive wrought iron garage door designs can be combined with wood and faux wood as well as steel, iron and aluminum for a great look on your home.
There is nothing like the feeling of pulling up to your home and loving it! You can make the façade of your home look completely different from traditional wood garage doors, carriage doors, faux wood garage doors, composite wood doors and more. New iron ornamental garage doors are trending in the New York City boroughs. Contact Christie Overhead Door today for your free estimate. To see more garage door ideas visit HGTV.
https://christieoverheaddoor.com/wp-content/uploads/2017/11/Iron-Ornamental-Garage-Door-Staten-Island.jpg
500
500
Christie Overhead Door
https://christieoverheaddoor.com/wp-content/uploads/2015/02/logo-christie-overhead-door-2.png
Christie Overhead Door
2017-11-30 15:31:25
2017-11-30 15:38:45
The Latest Trend Iron Ornamental Garage Doors Reach the Northeast