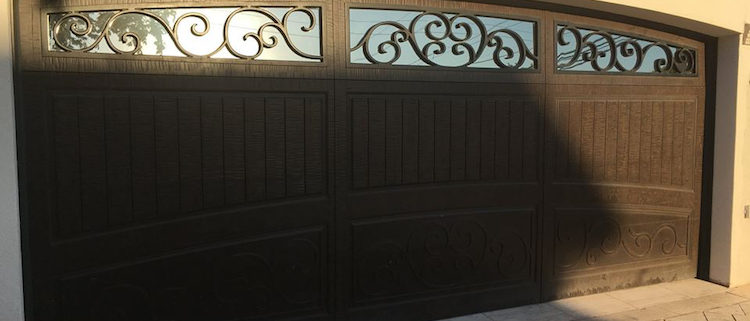 The best residential garage doors for 2018 add beauty, warmth and value to your home. Christie Overhead door gathered some statistics on the best residential garage doors selected in Brooklyn, Queens, Staten Island and New York City.  These top 5 residential garage doors made the cut:
Traditional Raised Panel
Carriage House
Contemporary Aluminum Garage Doors
Ornamental Iron Garage Doors
Infinity Glass Overlay
Traditional raised panel garage doors have stood the test of time. They are classic in both construction and design options. Panels can be short, long or flush depending on the style garage door you choose. You can truly make this garage door a style of your own. Traditional raised panel garage doors have a durable steel construction with multiple insulation options which is extremely important when it comes to energy-efficiency. Traditional raised panel garage doors are one of the best due to their flexibility in choosing glass option and they are very easy to clean. You can choose from many different factory paint finishes making it easy to customize the look of your residential garage door.
Carriage House Garage doors have made the top 5 list for 2018 due to their stylish and fashionable look. Carriage House Garage Doors also have more than looks. They are very functional with the look of swingout doors, they still operate overhead like a standard garage door. You can have the best of both worlds with carriage house garage doors. Overhead operation, multiple layers of insulation, decorative hardware, window options, and a choice of many composite and wood stains are just a few reasons to choose this garage door for your home. Many people love the architectural features or barn door look they can achieve with carriage house doors.
If you love a modern look, contemporary aluminum glass doors may be perfect for your home. Christie Overhead Door has installed hundreds of contemporary aluminum garage doors throughout the 5 New York City boroughs. Contemporary aluminum garage doors have sleek, clean lines with light-filtering glass options for beauty and privacy. Modern aluminum garage doors have wide frame options suitable for three car garages. The frames are powder coated for anti-corrosion. Contemporary aluminum glass door frames come in over 180 different colors.
Ornamental iron garage doors have become extremely popular in Staten Island, New Jersey, Brooklyn and New York City. In fact, Christie Overhead Door has designed two exclusive faux ornamental iron garage door window patterns perfect for the trending styles in New York City homes or businesses. You can choose an ornamental garage door design that compliments your façade. Faux Wrought iron garage doors add a unique feel to your home without the cost and inherent maintenance. Choose a wrought iron garage door pattern and one of our patented SCORRIMENTO glass designs for a unique look that can complement other aspects of your home. For example, ornamental iron doors and railings can coordinate with the look of your entryway doors and gates.
Full overlay Infinity glass garage doors made the list for 5 best residential garage doors in 2018. Last but not least, this Brand new "Infinity Glass" garage door design allows you to make the most of natural sunlight. Whether your home is facing the street, a backyard, or a patio, full overlay infinity glass garage doors are distinct and give your home an upscale one of a kind look. Infinity glass doors have a triple insulated steel frame behind the glass so you don't have to sacrifice durability for looks. You can choose from many different glass tints to coordinate with the outside of your home. The custom Flush Smooth finish is new and unique from the typical embossed steel used for many years. Many powder coat colors are available to keep things interesting. Make a great impression on family, friends and guests with a full overlay Infinity glass garage door.
For more information on the best residential garage doors for you home contact Christie Overhead Door. Christie Overhead Door is the premier residential garage door company serving the five boroughs and Long Island.  Call Christie at 718-967-8858 for more residential garage door design ideas and a free estimate.
https://christieoverheaddoor.com/wp-content/uploads/2018/01/ornamental-iron-garage-doors.jpg
563
750
Christie Overhead Door
https://christieoverheaddoor.com/wp-content/uploads/2015/02/logo-christie-overhead-door-2.png
Christie Overhead Door
2018-01-26 19:02:51
2018-01-26 19:02:51
Best Residential Garage Doors for 2018