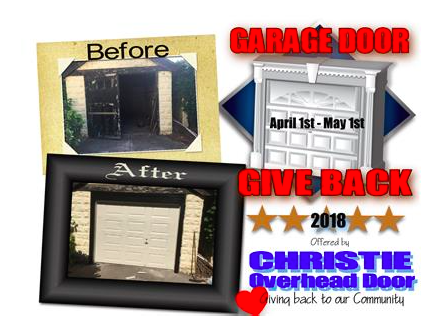 Christie Overhead Door is giving back to Staten Island residents this month from April 1st – May 1st. Christie Overhead Door announced it's first annual Staten Island Garage Door Give Back on Good Friday and Passover. "There is no better time to announce a local company give back than around the holidays," said Owners Andrew and Carla Cimmino. "It's a great time of year to show the Staten Island community how grateful we are for all their years of support."
This month you can win a new garage door valued at $750.00. You can nominate a friend, family member, neighbor or yourself. All you have to do is post a photo of your garage door on the Christie Overhead Door Facebook page and share a brief story of  why you or the person you nominate should win.
Once you've shared and posted your photo and story on the Christie Overhead Door Facebook page, ask your Facebook friends and family to "like" your photo to be nominated to win. Each like counts as a vote. The photo with the most "likes" wins the contest and gets to choose a new garage door to be installed on their Staten Island home! Depending on your opening, the garage door will be a raised panel garage door with no windows valued at $750.00 dollars. The photo of the garage door below is similar to what the garage door will look like. The garage door installation is included and will be performed by a Christie Overhead Door I.D.E.A. Certified Technician.
The Garage Door Give Back administered by Christie Overhead Door is only open to Staten Island residents. You must live in Staten Island to participate. The Staten Island Garage Door Give Back has also been posted on the Staten Island Advance website to alert the community. All photos and stories must be submitted by May 1, 2018 to be eligible. Voting will end May, 1, 2018 and Christie Overhead Door will announce the Garage Door Give Back winner via Facebook on May 2, 2018. Please sure to check the Christie Overhead Door Facebook page to see if you are a winner.
Christie Overhead Door recently attended an Annual Garage Door Meeting and was inspired to offer this contest after speaking with garage door dealers located in Wisconsin. " Why not try this great idea in our local Staten Island area," said Owner, Andrew Cimmino. "Best of luck to everyone who participates and we look forward to announcing the winner next month." If you have any questions about the Christie Overhead Garage Door Give Back please contact Christie or call 718-967-8858.
https://christieoverheaddoor.com/wp-content/uploads/2018/04/Staten-Island-Garage-Door-Give-Back-1.png
335
442
Christie Overhead Door
https://christieoverheaddoor.com/wp-content/uploads/2015/02/logo-christie-overhead-door-2.png
Christie Overhead Door
2018-04-06 15:54:43
2018-04-06 15:58:15
Christie Overhead Door Staten Island Garage Door Give Back