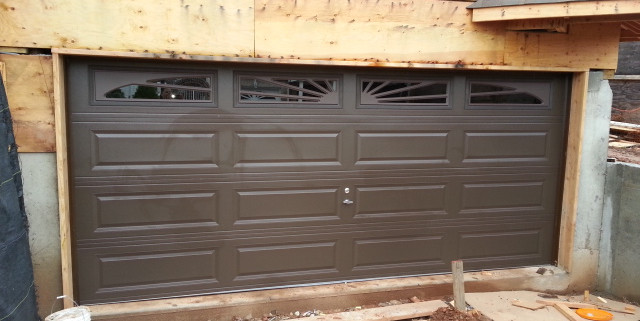 Energy efficient garage doors can help you save money on energy costs. Durable layers of polyurethane foam are added to heavy gauge steel for maximum strength, durability and thermal resistance. An R-value refers to the measure of thermal resistance in the building and construction industry. The 'R' stands for resistance. Energy efficient garage doors with a higher R-value can help save on energy bills especially in winter. 
Energy Efficient Garage Doors Reduce Overall Costs
The past two winters in Brooklyn, New York, New Jersey, Staten Island and the northeast have been brutal to say the least. It's important to purchase energy efficient garage doors with an R-value range of 9.1 to 17.2 to help save you money. New homes take advantage of higher R-values. Older homes generally do not have energy efficient garage doors. If you've been feeling a draft in your garage, it's more than likely you are spending a higher amount on your heating bills. Energy efficient garage doors keep warm air from escaping outside your home or commercial dwelling during winter. Even glass can be insulated to help reduce energy costs.
Energy Efficient Garage Doors Have Insulated Materials And Parts
Insulated materials can be used on many parts of a garage door helping to make it more energy efficient.  The R-value depends on the type of insulation that is used on the garage doors, glass, weather stripping and more.  You'll want to make sure to use a factory-applied heavy duty weather seal on the bottom of your garage doors to keep the cold elements outside.
If you're looking to purchase energy efficient residential or commercial garage doors, contact Christie Overhead Door for more information. Christie Overhead Door is a certified residential and commercial garage door expert and installer. Christie Overhead is also an accredited C.H.I. Overhead Doors specialist serving homeowners and commercial businesses in Brooklyn, Staten Island and New Jersey since 1945. 
https://christieoverheaddoor.com/wp-content/uploads/2015/11/energyeffcientgaragedoors.jpg
480
640
Christie Overhead Door
https://christieoverheaddoor.com/wp-content/uploads/2015/02/logo-christie-overhead-door-2.png
Christie Overhead Door
2015-11-13 00:11:21
2015-11-13 00:15:36
Energy Efficient Garage Doors Help Reduce Costs