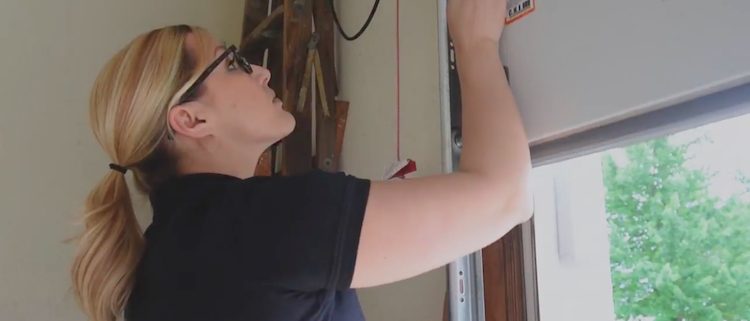 The month of June is Garage Door safety month in the Garage Door industry. We would like to share some important garage door safety tips with you. Garage door injuries can be avoided by taking extra precaution.
Garage doors are thought of as much more than storage for your vehicle.
Yes, we all love the option of opening and closing our garage doors automatically upon leaving and coming back to our home. That's a fun and convenient operation to have on a garage door if you are fortunate enough to purchase and install this feature.
Converting Your Garage Into Additional Space Requires Garage Door Checks
Some garages are used for backyard storage or garden tools. Some people convert their garages into additional living space. In these cases, a garage door is opened and closed more frequently which can lead to more safety and security concerns. Have a garage door technician inspect the operation of your garage doors seasonally. Garage door operation can vary from hot summer temperatures to extreme cold weather. Check the security of your garage door often. Make sure all the locks work well. If you have a keypad entry system, test all the keypad buttons to ensure smooth operation.
Here are a few more tips:
• Keep your toolbox, garden tools, and household items safely stored in your garage away from the door
• Teach family members about garage door safety to prevent unnecessary injury
• Keep your garage door entryway clear of debris
• Report garage door noises and repairs quickly to avoid growing problems
Garage Door Checks By A Professional Is Recommended
Preventative maintenance of your garage doors and mechanical parts goes a long way. Purchase a maintenance plan from a garage door service company after you purchase your new garage door. A garage door repair company or garage door technician has the professional training necessary to keep you, your family and guests safe.
Regular maintenance, security check-ups, and good organization can prevent your garage doors from wearing prematurely. You will also have peace of mind knowing your home and loved ones are secure. Contact Christie Overhead Door for more information about safety and maintenance.
Christie Overhead Door offers garage door maintenance programs, garage door repairs, and safety checks in addition to installing new garage doors, garage door openers and gate automation. Christie Overhead Doors services Staten Island, New Jersey, Brooklyn, and Long Island. Professional garage door technicians are on staff to handle any garage door maintenance, repairs or safety checks you may need. To view some quick videos on additional safety information visit C.H.I. Overhead Doors.
https://christieoverheaddoor.com/wp-content/uploads/2017/07/garagedoorsafety.jpg
398
750
Christie Overhead Door
https://christieoverheaddoor.com/wp-content/uploads/2015/02/logo-christie-overhead-door-2.png
Christie Overhead Door
2017-07-13 16:56:44
2019-06-04 15:08:29
Garage Door Safety Month Tips for 2019