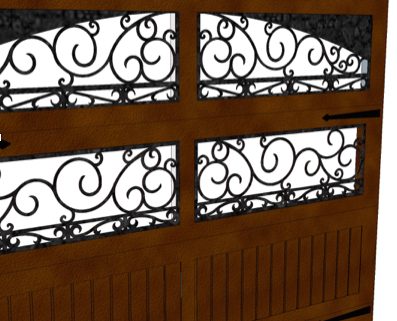 Ornamental iron garage doors can make a great first impression on your Queens, Brooklyn, Staten Island, New Jersey or Long Island home. You really do only have one chance to make a first impression. Usually referring to social encounters, the same can be said about your home. What do people say when they first see your home? What does the appearance say about you? Do your garage doors make a statement about your taste and who you are?
In most cases, a homeowner will justify the hefty cost of a custom ornamental iron entry door because of the impact it makes on the front of the home. An ornamental iron garage door is much larger and in most cases becomes cost prohibitive to make the same statement.
Ultimately, homeowners will concede to a plain cookie-cutter looking garage door. What if you could make that same statement without the cost or tremendous maintenance that comes with a thousand pound ornamental iron garage door? What would your home look like with an ornamental iron entry door and an ornamental iron garage door? Ornamental iron garage doors stand out with custom scroll work and custom oil rubbed bronze finishes for an amazing look.
Christie Overhead Door has spent years perfecting the look and feel of an ornamental iron garage door to match your ornamental iron entry doors without sacrificing the warmth or grandeur that an actual ornamental iron garage door deserves. Christie Overhead Door has developed faux iron ornamental garage door design patterns with your budget in mind. Christie Overhead Door currently has two custom iron garage door options to choose from. These faux ornamental iron garage door custom designs are exclusive copyright of the Christie Overhead Door company.
Most real ornamental iron garage doors can cost $8000-$12,000 just to buy. Christie Overhead Door provides a cost-effective solution to owning a beautiful faux ornamental iron garage door starting at just $1999.00 INSTALLED. Christie Overhead Door will help you select a complimentary iron garage door at a price you can afford. Add beauty and value to your home today. Contact Christie Overhead Door for a FREE Ornamental iron garage door design consultation this fall!
https://christieoverheaddoor.com/wp-content/uploads/2017/10/ornamental-iron-garage-doors.jpg
358
397
Christie Overhead Door
https://christieoverheaddoor.com/wp-content/uploads/2015/02/logo-christie-overhead-door-2.png
Christie Overhead Door
2017-10-13 20:07:48
2017-10-13 20:07:48
Ornamental Iron Garage Doors Make A Great First Impression